Re-Authentication of Emails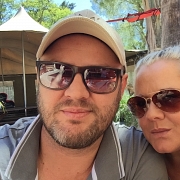 Dear Pipedrive, i trust that you are doing well during this unprecedented time. I need your help with re-authenticating my emails? I recently changed my windows password and since then can't authenticate my emails and use this function. I have contacted our IT department who responded with the following; 
Unfortunately we do not support pipe drive as it is not an application that we host or have access to.  If the pipe drive application just uses a username and password to connect to our mail server, then I suggest that you log a ticket with Pipe Drive. If you can logon to your emails and the VPN using the new password, then there are no issues on our side.  It means that your password change was successful and we can authenticate you. 
I have use the exact same credentials as before and only updated my new password.
The following pop-up comes up everything when i try and authenticate my emails.
Please check your email address and password.
If you have two-factor authentication enabled on your account, you'll need to generate an app password from your email provider.
If your credentials are correct, you may need to enter extra information under 'Advanced Settings'.
I have also used the exact same information as the previous time in advanced settings.
Looking forward hearing from you.
Best Regards,
Jan Booysen
Tagged:
Comments