Webinar: Why you should shake up your marketing & sales strategy in a global pandemic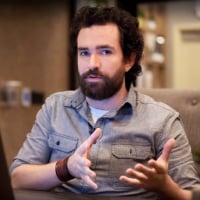 James Campbell
Posts: 42




https://pipedrive.hubs.vidyard.com/watch/czTATJe4f7RdYSUbxiUotw
May 28th: 3PM BST/UK time - Let's Shake Things Up
Signup here and join the discussion
COVID-19 has forced businesses around the world to adapt and evolve the way they operate. While some of the old rules of selling still apply, without face-to-face interactions, sales and marketing strategies inevitably need to shift in order to keep up with current market demands and changes. 
During this webinar Daniel Disney (The Daily Sales) and Max Altschuler (Sales Hacker) are going to be talking about a digital-first approach: suggesting strategies for completing the entire sales process virtually and put forward tools and platforms which all good salespeople and marketers should consider to enable them to weather the storm that is going to impact businesses for months ahead.
Daniel Disney is one of the world's leading social selling and LinkedIn experts with more than 17 years of experience. He is a published author and blogger, keynote speaker, sales coach and consultant for businesses around the world. In 2018 alone his LinkedIn content reached 164,000,000 people and he was crowned the 14th most influential sales expert on LinkedIn in the world. Daniel is also a Fellow of the Institute of Sales Management (ISM), listed on the Rise Global List as a global sales expert, and a sales lecturer at Portsmouth University
Max Altschuler is the founder and CEO of Sales Hacker, a media company focused on improving the future of B2B sales. The company regularly hosts a number of conferences, webinars and meetups all around the world. Max is also the author of the bestselling book Hacking Sales: The Playbook for Building a High Velocity Sales Machine.
Moderator: David Bullock, crisis communications manager @ Pipedrive
Comments
This discussion has been closed.