A sales experiment got 80% open rate & 18% reply rate 📈
Shobhit Gaur
Member
Posts: 127




Hey Community members,
Selling in this pandemic is tough. I wanted to share an experiment that our sales team conducted by creating a special sales sequence using Outplay, that gave great results. Feel free to use it. 
Here is how they did it -
They created a sequence called '4 open sequence' in which they targeted warm leads from their previous cold email campaigns. As its name suggests, these were the prospects who had opened their emails 4 times before but never responded.
Here is why we selected 4. We thought 1 open - a prospect not sure if interested, 2 opens - May or may not be interested, 3 Opens - Yes, some traction, 4 Opens - Definitely need to follow up right now.
The team set up a *trigger* in Outplay to automatically add those warm prospects to the '4 open sequence'. We developed this feature for sales teams to experiment quickly & save time.
The messaging strategy in the multi-channel sequence focussed purely on getting on a call with the prospect, so the team can show the benefits of using Outplay.
Notice how I said 'multi-channel'? Prospects were reached out on not only email but also on Linkedin, SMS, and call. 
The team a/b tested emails and setup personalized followups on calls and voicemails.
Our approach and messaging were so well received by our prospects, they ended up sharing it with their sales team. 
Want to implement this strategy? Make your own multi-channel sequence using Outplay, it is free to use for 14 days, and is one of the most-rated apps in Pipedrive marketplace.
https://marketplace.pipedrive.com/app/outplay/6d1d318eb8e17b9f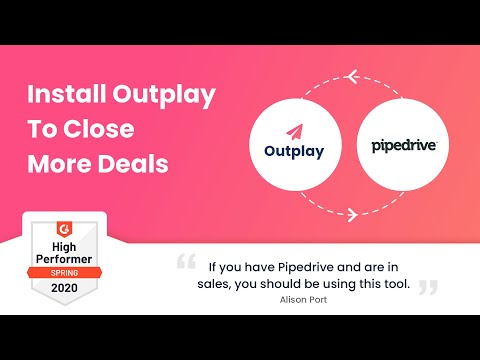 https://www.youtube.com/watch?v=PpKOsMSXGz0
Comments