Automatic Whatsapp PipeDrive integration is live on PipeDrive Marketplace (try it for free)
Do your sales agents use Whatsapp in their work? Or maybe you have Whatsapp as a channel to communicate with your clients? 

Based on feedback from PipeDrive community and a hundred user interviews, we created an automatic Whatsapp integration for PipeDrive. Try it for free here:
https://www.pipedrive.com/en/marketplace/app/timelines-ai-for-pipedrive/1a5fbfed3a04cc3a

Why is it better than alternatives? 
First, the Whatsapp PipeDrive integration is fully automatic. Your contacts and messaging get synced into PipeDrive without any manual input from your side. For new contacts, the new Persons and Deals will be created automatically. And yes, you can remove specific contacts from syncing (if you or your agents are using a personal number for work).

Second, it displays messages from Whatsapp inside of a Deal connected to the Person. You can now see all the related communication via email and Whatsapp in one place. If you need to dive deeper or send a reply, the integration inserts a shortlink to a Whatsapp chat with a contact. 

Third, you may connect your own number, or multiple numbers of your sales agents. The integration doesn't require Whatsapp Business API, works with multiple regular and business numbers. The setup only takes scanning a QR code and connecting PipeDrive in one click. 
We offer a free 10-day trial. Considering it only takes 5 minutes to connect Whatsapp to PipeDrive, you may get a full picture of the integration within this time. Let me know if you have any questions? I will be glad to learn what you think!

Here is the video that displays how it works: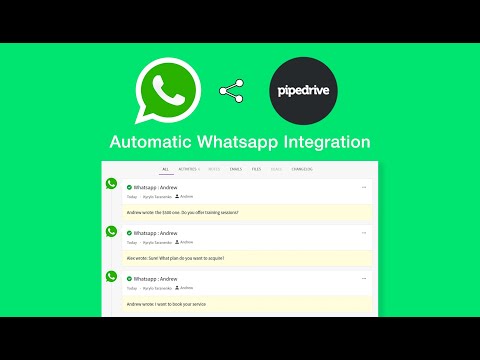 https://www.youtube.com/watch?v=ZI9S-aHrkqE